Make your way to the charming old town via the A85 and A9, or if you want to embrace your surroundings on the way, take the A822 scenic route through the 'Sma Glen'.
The main attraction to Pitlochry, is the beautiful setting. It's long been established as a tourist town, and it's no wonder with the abundance of local walks and cycling routes surrounding it.
There's an entire network of well-marked routes. For walkers there's everything from challenging hikes to gentle strolls, and all of the routes are clearly marked with colour-coded signposts. They'll take you along rivers, waterfalls and loch-sides, through woodland areas and up to the tops of the hills.
For road cyclists there are miles of country roads and large circular routes, some are suitable for the whole family and some are only for the very fittest. For those who are new to mountain biking, there are gentle off-road forest and glen runs. And for the more experienced mountain bikers among us there are mountain-top climbs, flowing downhill cycles and technical descents, to really test your strength and endurance.
You can visit lots of touristy spots too. Fancy experiencing some of Highland Perthshire's finest arts? The Pitlochry Festival Theatre offers a year-round programme of theatre, touring company productions and music. During the summer they have a different performance on every night. The theatre started life in a tent back in 1951, but has since upgraded to a stunning riverside venue.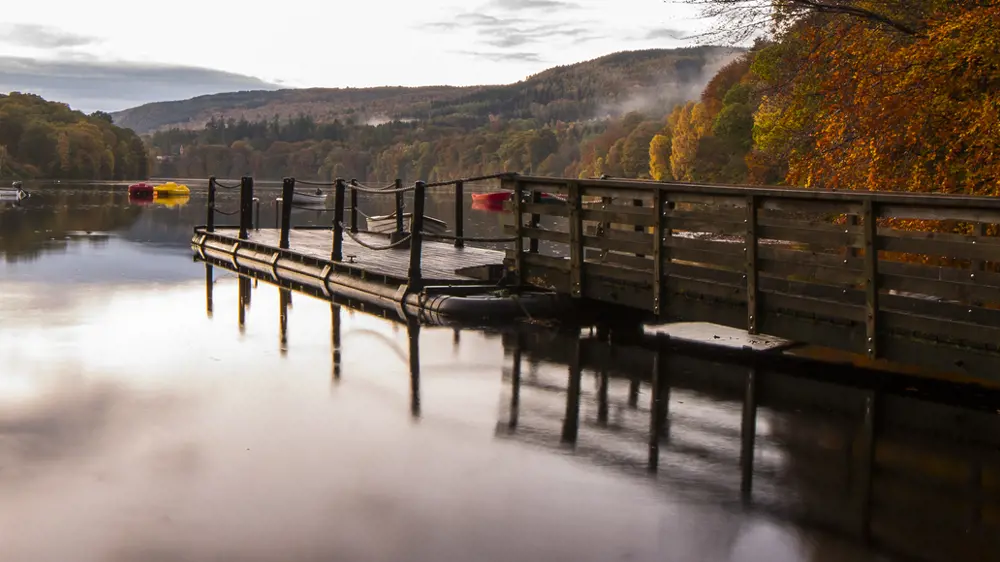 The town's most famous attraction is the Pitlochry Dam and Fish Ladder which sees around 5000 salmon make their uphill journey every year. If you come at the right time of year (anytime from April right through to October) and are really lucky, you might get to spot the salmon leaping their way upstream from rung to rung.
Even if you don't catch a glimpse of the salmon, the vast dam is worth exploring too. If you go in winter following excessive rain or snowfall, you'll get to see the water pouring over the dam wall.
Make sure to stop in at 'the Harrods of the North' – the House of Bruar, for high end Scottish produce and the best in country clothing. And if you enjoy a dram or two, there are a couple of distilleries in the town too.
If you're visiting during October, you have to book a ticket for the Enchanted Forest. This must-see sound and light show takes place when darkness falls over Faskally Wood, and it's pretty spectacular.
Pitlochry offers loads of options for a day trip. So, what are you waiting for?